A raised floor for your exhibition stand? Here are the advantages and disadvantages.
27.01.2021
Many of our booth designs include a raised floor. I've been asked quite a few times to what extent such a raised floor is desirable or necessary for a booth.
Therefore, in this article I will outline the features as well as the advantages and disadvantages of a raised floor.
Types of flooring
The floor and floor covering are an important part of your exhibition stand. Important from a practical point of view, but above all from a design point of view. The look of your floor covering must match the look of your brand, your company and the desired style of your stand. The floor you choose can make or break your exhibition stand.
At ISYFAIR, we are not tied to just one or a few types of flooring, we choose the flooring that best suits your booth:
Carpet tiles
Carpet from a roll
Laminate or wooden flooring
PVC/vinyl
Printed floor covering
With these floor coverings, we have a choice of:
1. Laying the floor covering directly on the exhibition floor
2. Laying the floor covering on a raised floor.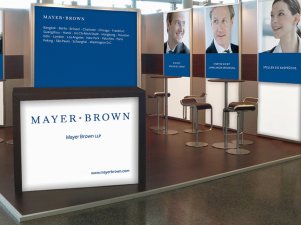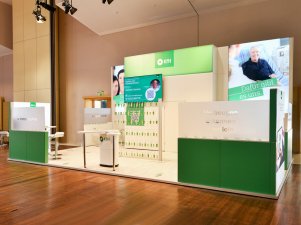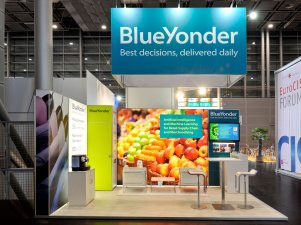 Benefits of a raised floor for your exhibition stand
Appearance: laying the floor covering on a raised floor gives your booth a more luxurious and polished appearance.
Concealment of cables and pipes: under the raised floor electricity cables and supply and drainage pipes of, for example, the water supply can be laid. At some stand locations, it may also be the case that electrical cables from the exhibition hall are located at your stand. If you do not have a raised floor, you are stuck with these (usually very thick) cables.
Always a straight floor: Not all exhibition locations have a straight and levelled exhibition floor. If you were to lay floor covering directly on such a floor, the result is usually not very pleasing. Some floors, such as wooden floors or laminate floors, cannot even be laid if the subfloor is not straight.
Disadvantages of a raised floor
Of course, there are disadvantages as well:
Cost: I'd say, this is the main disadvantage of a trade show stand with a raised floor. Laying a raised floor is labour intensive and requires additional transportation space for our booth builders. Therefore, it can be quite costly. Are you on a tight budget? Then you might want to consider designing a stand without a raised floor. The fact that cables could be visible is something you would have to accept in that case.
A threshold for visitors?
I have often discussed with clients and exhibitors to what extent a raised floor would not only literally but also figuratively create a threshold for visitors to enter a stand. Some people think that a raised floor reduces the chance of contact, because it forms a kind of psychological barrier. For this reason, a raised floor at a stand would be undesirable.
I personally don't think this is the case.
I believe that the psychological effect is so small that the advantages of a raised floor far outweigh any disadvantages.
Wheelchair accessibility
It is desirable, especially for larger exhibition stands, and often required by the exhibition organisation, that the stand is accessible to wheelchairs. In that case, we provide one or more sloping sides in the raised floor, which allow wheelchair users to easily access your stand.
The height of a raised floor
If you opt for a raised floor, our stand builders first lay a "platform" or "frame" of aluminium and/or wood. This then forms the subfloor on which the flooring is laid. Because these floors are height adjustable, we ensure a "levelled" end result, regardless of what the exhibition floor is like. The height of the raised floor can vary between 40-120mm.
Are there no supply or drainage pipes at your stand? Then we opt for a raised floor of 50mm, for example. This is high enough to neatly conceal electrical cables and is very fitting for smaller exhibition stands.
Will there be a lot of cables under your stand floor? Then choose a higher floor of, for example, 80mm or 100mm.
So, what's the conclusion?
Do you have the budget for a raised floor and are you willing to spend that (extra) money? Then I would opt for a raised floor in most cases, especially if there are (power or other) cables running through your stand.
Talk to us about the best solution for you and your booth and contact us for a free consultation.