Rent or buy an exhibition stand: what are the differences?
With our ISYFAIR concept we offer you the best designs and amazing service with fair prices. Our isy® DESIGN SELECTOR lets you compare stand prices, types and prices online. So that you can immediately see which kind of exhibition stand would be the best fit for you and your trade show and how much it would cost. Easy, effective and efficient!
Therefore, we offer the opportunity to buy and rent any of our exhibition stand designs. But what exactly are the differences?
Of course, you become the owner of your exhibition stand when buying, but that's not the only difference. So, to clarify, we have listed here what exactly buying or renting an exhibition stand with us entails: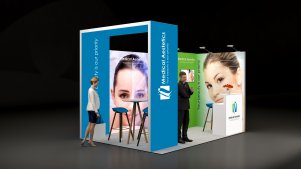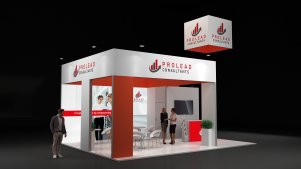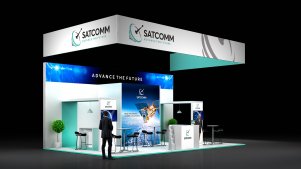 Renting an exhibition stand.
When renting an exhibition stand you always receive our full-service rental package. This package includes:
1. The complete hardware/structure of your exhibition stand ie. the frames and construction of the stand.
2. All required graphics – the graphics are the centre of your stand's communication and marketing. We design these graphics specially for you and print them in high resolution onto fabric and/or panelling. Although stands are rented out for a single trade show, the graphics remain your property meaning that:
- we can store the graphics for you until your next trade shows (as the graphics are reusable)
- we can send you the graphics for personal use
- we can dispose of the graphics on your behalf
3. The full lighting set up. Proper lighting is important for showcasing your products and services will make your exhibition stand more inviting. Therefore, we always include plenty of LED lights in our designs.
4. The stand flooring. We offer stands with both standard and raised flooring, which can be covered with carpet, laminate or PVC as required. The flooring shown in your design is included fully in the rental package and we will happily customise it to your wishes if you want to deviate from the original design.
5. Furniture for your exhibition stand. Good exhibition furniture will make your stand more inviting, as well as more practical, as it adds to the overall style and appeal of your stand. Furniture can be provided as shown in the designs, and can usually be provided in various colours, with no need to pay extra. We can also provide with a personalised selection if you would prefer furniture not included in the base design. We offer a large range of styles, so you will find something you like.
6. LED monitors/walls. A lot of our stand designs include LED monitors or even LED walls which can display your videos and animations. Just connect the screens to your device or USB stick. Tell us what you want to showcase, and we will find the perfect solution for you. Of course, the placement of LED monitor features can also be personalised and altered from the original design to fit your needs.
7. Project management. Our project managers will ensure the whole stand design and building process runs smoothly for you and are there to respond to any wishes or requirements you may have. This way we can take as much trouble of your hands as possible. Our team works hard and with attention to detail to provide you with 100% satisfaction.
8. Logistics. We will transport your exhibition stand to and from your exhibition show for you. Anywhere in Europe.
9. Installation and dismantling of your exhibition stand. Our stand building team will install your stand on site in a timely and precise manner, according to our agreed specifications. So you won't have to think about your stand and can focus on your customers.
10. Storage of your graphics. After the trade show we will store your stand and graphics (for up to 1 year) if required (see bullet point 2) so you can reuse them at your next trade show.
Ask
ISY

FAIR

: What happens if I want to reuse my rented exhibition booth?
We will happily install your exhibition stand again at a future trade show. If the stand is supposed to look the same as last time you save on the cost of producing new graphics as these can be reused. This way your exhibitions become more efficient and environmentally friendly as you produce less waste.
Do you want even better terms?
Contact us about a multi-year contract which will ensure you not only better prices but the knowledge that you have a high-quality exhibition booth and organisation at any trade fair built and supported by a reliable team which you know and trust.
Renting an exhibition stand is the best option if:
You want to be completely supported – You can focus on your business as much as possible and we will take care of any organisation, and exhibition stand troubles.
You aren't sure if you will want to exhibit at another trade show soon.
You want to exhibit with a different concept or theme every time.
You would prefer not to make a large investment with annual depreciation and bookkeeping efforts, but rather budget for one-time costs.
Buying an exhibition stand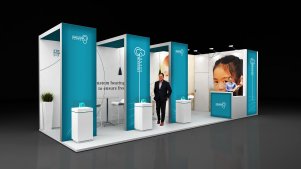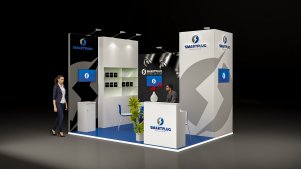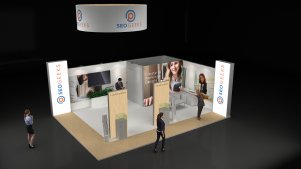 Buying a stand is the better option if:
You know you want to use the same exhibition stand multiple times.
You want to organise your logistics and installations yourself to minimise costs.
You prefer to invest in the stand once rather than renting every time.
When buying an exhibition stand with ISYFAIR, you do not get the full-service rental package. The standard buying option incudes:
The complete, modular exhibition sand. Modular meaning that it can be easily modified and expanded.
Transport cases/Flight cases/Bags for your stand which are specified in the design but can be changed according to your individual needs.
The lighting (LED)
Personalised graphics
Not included when buying a stand are:
The furniture
Floors and the covering (carpet, laminate, PVC)
LED screens/monitors
Project management
Installation and dismantling of your stand*
*Although not included in the standard buying option, we will happily make you a personalised offer for installing and dismantling your stand at your trade show.
Conclusion
When renting an exhibition stand with ISYFAIR we include our "worry-free" full-service rental package for your trade show. But you can also buy instead of renting. Which option is the best for you depends on your business, individual needs, and how you want your exhibition to go. Still undecided? Contact us to discuss your options with a customer service representative for your region.