Are trade show organizers now also pushing sustainable and reusable booth construction?
25.01.2023
CO2 , Nitrogen, PFAS and all sorts of other scary critters that are bad for our climate and environment have been the subject of discussion very often in recent years. In politics, but also in our daily lives, both business and private.
But to what extent does this actually affect the booth construction industry? Well, by definition, booth building is not environmentally friendly. Now, that's out of the way.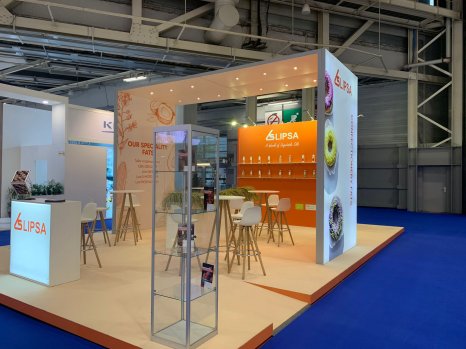 Modular booth at Food Ingredients in Paris
Because of this realization, there are more and more initiatives from booth builders to reduce waste. In order to build more sustainable stands.
But it is not only the booth builders who are working on this. Exhibitors are also aware of the "footprint" of their trade show participation. They are increasingly demanding that their trade show booths be built from reusable materials. In many cases, the degree of sustainability and reusability is even part of the exhibition stand briefing. The exhibition booth that we - or fellow booth builders - build for them must fit within the client's sustainability guidelines.
But what about exhibition organizers??
For both booth builders and exhibitors, the goal is to build booths that are more sustainable and reusable. But what about exhibition organizers?
Last December, we built the last trade show booth of the year at the Food Ingredients trade show, held at the Expo Porte de Versailles in Paris. While reviewing the regulations for this fair - the standard procedure for our project managers - we noticed that the Food Ingredients organization is very clearly pushing for sustainable and reusable (booth building) materials. This is what the regulations literally said:
As part of our efforts to run sustainable and socially responsible events that have a limited impact on the environment, we want to partner with all our exhibitors to eliminate disposable stands and reduce the environmental impact.
We're helping all our exhibitors to eliminate disposable stands and replace them with better-quality, environmentally friendly alternatives built with reusable materials which can be repurposed for future events.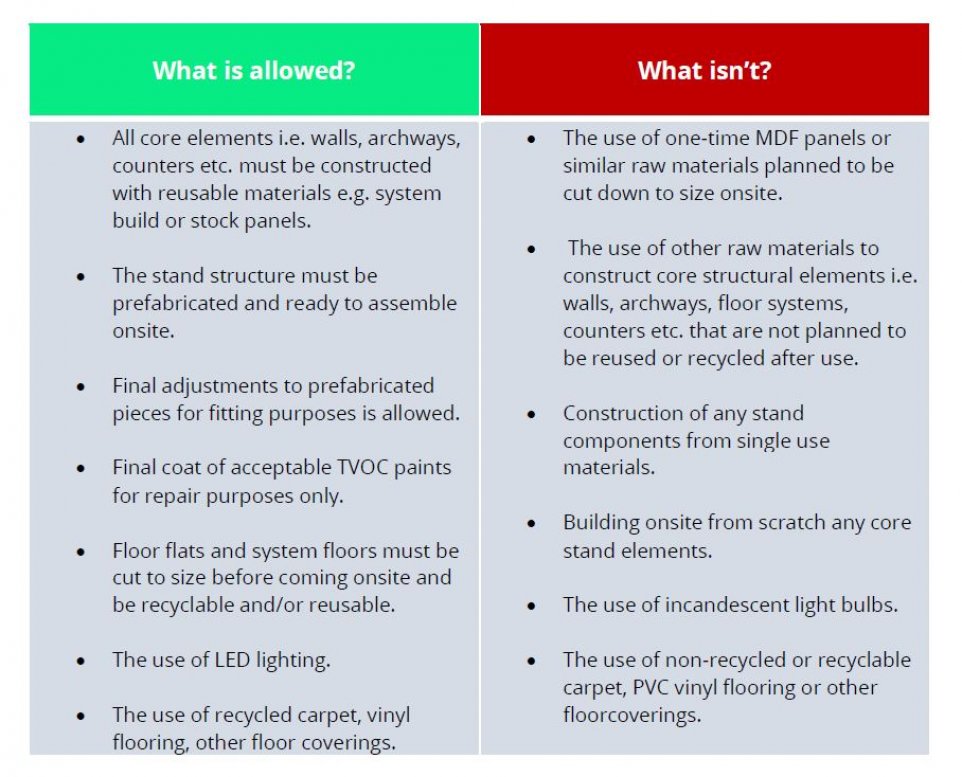 And that it didn't just stop at a mention in the regulations was evident after booth designs were submitted. These are necessary to get approval to build the booth. In fact, we were asked to explain exactly what materials we use for our booth construction, and what is the percentage of "reusability" of these materials.
So it seems that now trade show organizers are also starting to push for the use of sustainable, reusable stands and booth materials. And if this trend continues it will have the necessary effect for booth builders and booth construction in general.
Stand building can be divided into 2 types:
Stand building can be divided into 2 types of stand building.
Traditional stand construction / wood construction - the stand is built mainly with wood.
Modular stand construction - the stands are mainly built with aluminum frames.
OK, this is a bit of a black-and-white division - because there are also several intermediate forms possible - but in principle it is quite correct.
It is mainly the first category of stand construction (timber stand construction) where I expect the most changes in the coming years. Because the reusability of the materials used in "wood construction" stands is much smaller than in modular stand construction. And in addition, those wooden frames and panels (which form the basis of wood construction booths) have to be sanded, filled and painted. That too is not very sustainable.
In summary, more waste is produced with traditional stand construction from wood than with modular booth construction. And it is to be expected that precisely this form of booth construction will be seen less and less often at trade shows in the future.
So is modular stand construction environmentally friendly? No. Not one form of stand construction is entirely environmentally friendly, including modular stand construction. But the amount of waste is considerably less than with traditional booth construction.
What about
ISY

FAIR

exhibition stands?

At ISYFAIR exhibition stands, we build booths exclusively from modular aluminum frames. These frames are used dozens, sometimes even hundreds, of times.

For printing, we mainly use printed cloths. These canvases can also be perfectly reused. Although I must honestly say that in practice they are sometimes thrown away after the exhibition. Simply because the customer (exhibitor) does not want to reuse them. It can be done, but it doesn't always happen.
I could go even further by mentioning that modular stands weigh (much) less and have less volume than wood stands. So they can be transported with smaller and lighter cars and trucks, which helps reduce CO2 emissions. But I am well aware that I am treading on dangerous ground here. Before I know it I will be accused of greenwashing..
Conclusion:
Building sustainable and reusable trade show booths has the attention of both booth builders and exhibitors, and now trade show organizers. There are still many steps to take, but the expectation is that exhibition stands will become more and more sustainable, especially now that exhibition organizers are also starting to prescribe sustainable stand construction to their exhibitors.
Want to know how we can build an attractive and sustainable exhibition stand for you? Then contact us for an exploratory discussion.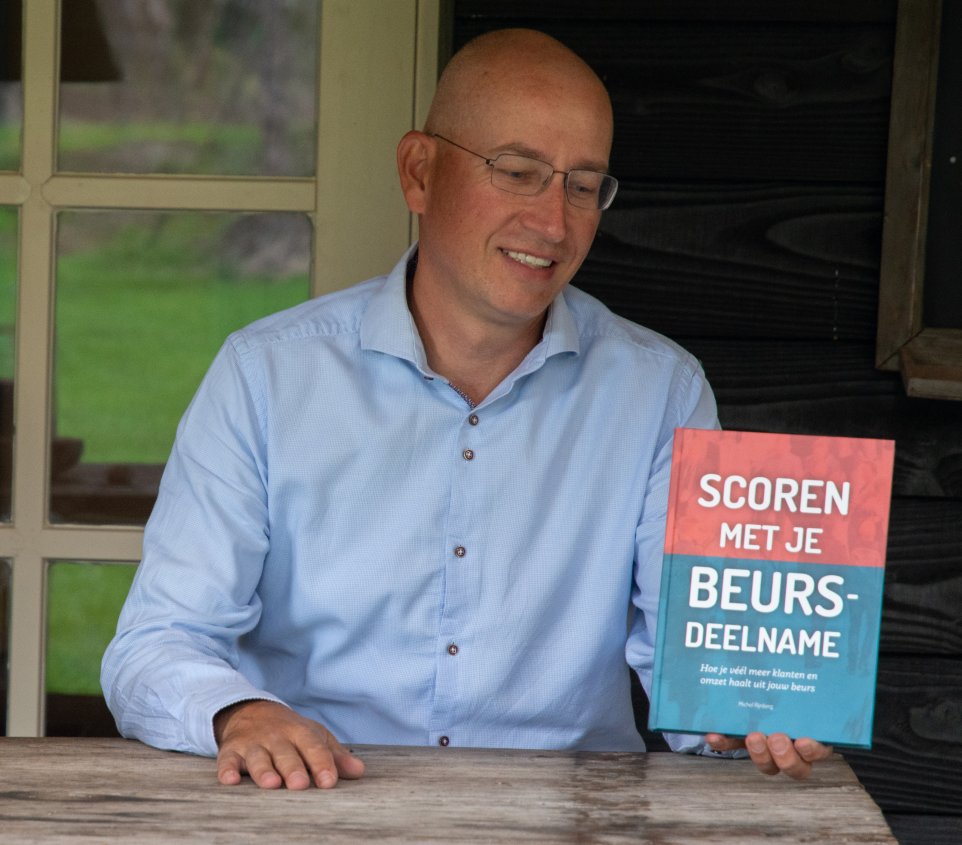 Do you want to know more, discuss the options for your booth, or receive a free 3D design for your next show?
Get in contact with us for a call or online meeting without any obligation.