7 tips to stand out from the crowd with a small exhibition stand
22.02.2021
The Calimero effect. Well, I only have a small stand. That's what I sometimes hear when I ask stand owners about their plans for the upcoming trade show.
The reason for a small stand may be a limited budget, or limited expectations of the fair. Or they just want to give it a try because their competition is also there. All good in itself. But even a trade fair or congress with a small stand costs serious time and money, so you should try to get the most out of it!
Because even with a small stand you can have a very successful trade fair. Size matters, but not always.
Sure, with a large stand it's easier to attract visitors. But with these tips, you can get the most out of your participation, even with a small stand, pop-up stand or mobile exhibition wall. They will help you will get more attention, visitors and leads from interested parties in your company. And therefore, a more successful participation.
OK, here they come: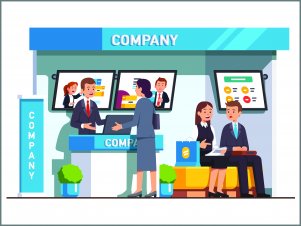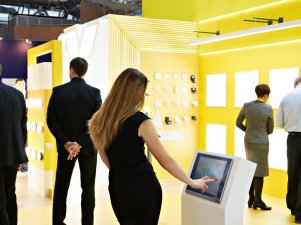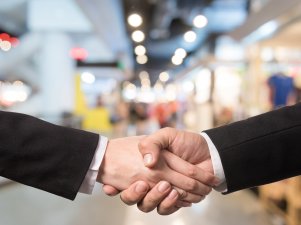 1. Lighting
Don't skimp on the lighting. Too much light is actually never enough, unless you want to create the atmosphere of a cosy pub. A lot of lighting makes your booth stand out. In addition, a lot of lighting almost always creates a more professional look. And the reverse is perhaps even more true: too little lighting gives your booth a shabby look.
2. Floor covering
Your floor covering and its colour play a dominant role when it comes to the look of your stand. With small stands and standard stand construction, for example, you are often dependent on what is supplied as part of the stand rental package.
My advice: always try to deviate from what is offered as standard. Because if you pick standard choices (usually you can choose from carpet tiles in the famous colours dull blue and boring grey), then you know that you'll get exactly the same as the neighbours in front, next and behind you. Not the best way to stand out with your stand. Therefore, in consultation with the exhibition organisation, see if you can lay your own floor covering or have it laid. Choose a beautiful and unusual floor, printed floor covering or PVC. Something that amounts to a different, striking and professional exhibition stand.
3. Graphics
Graphics (photos, illustrations, images, etc.) play a very important role when it comes to getting noticed with your exhibition stand. I would like to give you a few guidelines:
Less = more. Limit the number of photos and texts to a minimum. This is extremely important, especially on a small stand. Fewer photos not only ensure that the photo or photos that are on the stand get more attention, these photo(s) can also be displayed larger. And larger means more visible.
People look at people. We are programmed to look at eyes and people. Images of people therefore attract more attention than images of products, for example. Try to take advantage of this with your brand or product.
High-contrast photos. Make sure you have high-contrast photos of good quality. Don't have any? Then consider getting some made. Of course, you can also use stock photos, but some caution is advised there. Because they can easily look fake and unreal. The person often looks just a bit too correct, neat, and polished. Subconsciously, visitors feel that. Therefore, your company or product may not come across as real, which affects trust.
4. Texts and communication
Let not only your photos but also your texts speak for themselves. A good text or slogan ensures that potential customers immediately understand who you are and what you do. And if this text also stimulates and seduces, chances are that potential customers will stop and stay at your stand for a while.
5. Acts, demonstrations and other attention-grabbing features
A green wall on which you can have your picture taken with a famous person, a win-action, virtual games, Augmented Reality, product demonstrations or actors at a stand are all fantastic things I have seen when visiting trade shows.
All have the goal of attracting visitors and ensuring that they stop and have a look at your stand.
And it works. People are herd animals and are always looking for entertainment. Just keep in mind that such attractions are not very selective. They attract not only potential customers but also "other" random visitors. This doesn't have to be a problem though, people attract other people, who might be interested. But make sure that by asking one or two specific questions, the stand crew can quickly filter out which visitors are really interested in your product or company and who only came for the attraction.
6. Motion
Movement attracts attention. Take advantage of this at your booth. Large screens showing fast-moving videos or animations, a machine working live at your stand, or a speaker giving a presentation at your stand all attract attention through motion. OK, granted, on a small exhibition stand the possibilities for this are more limited but with some creativity you can certainly come up with something attractive.
7. Proactive stand crew and hostesses
If your stand doesn't "automatically" attract enough attention, make sure you have a proactive stand crew to make sure visitors notice you. Hostesses can also play a role here. For example, you can have them hand out something to make contact. By asking a few good questions they can then classify a visitor and possibly transfer them to the sales team.
These tips will help you to make your participation in the trade show a success, even with "just" a small stand. Want to know how we can help and advise you even more? Or are you looking for an exhibition wall, presentation wall or mobile (self-build) exhibition stand? Then we would like to get in touch with you to talk about the possibilities!