Virtual exhibitions & trade shows
22.12.2020
With most trade shows cancelled or postponed during the Corona pandemic, alternatives have emerged in the form of online events where relationships can be cultivated, and suppliers can be found: Virtual exhibitions and virtual trade shows.
Trade show organizers offer "online exhibitors" a virtual exhibition stand where they can connect with online trade show visitors. These visitors can join the virtual trade show from their laptop or desktop while working from the comfort of their own home, perhaps even with a cup of tea in hand.
Several such virtual trade shows have already been held, with varying results.
Are virtual trade shows an alternative to real trade shows?
No. In our opinion, they are not. By definition, trade fairs are places where people meet. They are about personal, direct contact between exhibitioner and visitor. Without personal encounters they cannot be real trade fairs.
But does that mean that virtual trade fairs have no right to exist?
No, it's not like that either. Virtual trade fairs cannot replace a real trade fair, but they still have a purpose.
Virtual trade fairs are more than websites, online vendor overviews or start pages, because they use 3D and 4D techniques and multiple interactions with the visitor. This makes this tool, which is basically not much more than an "assembly website", more real and experiential.
That's why visiting a virtual trade show can be a lot of fun, informative and interactive. And yes, it even gives a bit of the impression of visiting a real trade show.
The challenges of a virtual trade fair lie primarily in the right "packaging" and the degree of attractiveness and interactivity that can be achieved. People who visit a trade show from their computer can also be very easily distracted and then leave the virtual trade show just as quickly as they joined it.
Hybrid exhibitions and trade shows
There are some that believe that virtual trade shows are the future, even after the Corona pandemic. At ISYFAIR, we disagree.
Virtual fairs have a temporary function during the pandemic. They are intended to fill the gap left by the absence of trade fairs and to meet the need for knowledge exchange, information and (online) contacts.
However, we also don't believe that virtual trade shows will become completely extinct after the Corona pandemic. We see a future for hybrid trade shows. In other words, live events, i.e., real trade shows, to which a virtual trade show is linked.
The best of both worlds, so to speak.
The virtual trade fair will then be a complementary marketing tool for trade fair organizers to generate additional attention and further visitors for their exhibitors and thus also for their trade show. And with this virtual trade show, the duration of this can be extended from a few days (the period of the real trade fair) to many months or even years.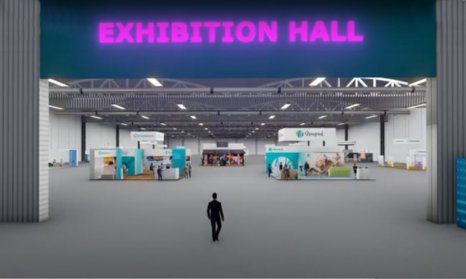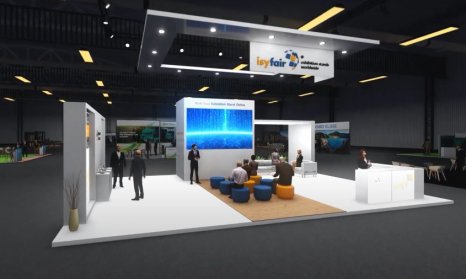 What role can
ISY

FAIR

play when it comes to virtual trade shows?
Although a virtual trade fair is fundamentally different from a real trade fair, there are also many similarities.
Our expertise and many years of experience cover areas that are also extremely important for the design of a virtual trade fair:
Knowledge of exhibition stands
Knowledge of 3D design and stand design
Knowledge about the behaviour of exhibition visitors
Knowledge of trade show marketing
All of these elements are critical for developing a successful virtual exhibition. Without this knowledge, even an online exhibition cannot be successful.
Of course, the technical realisation and implementation of a successful solution is crucial. We make sure that our ideas, designs and concepts are implemented in the virtual exhibition.
For this purpose, we at ISYFAIR rely on a network of experienced (IT) specialists from various disciplines and with diverse specializations. Together we ensure that our customers' goals are realized and that the virtual trade fair is a success.
Would you like to know more about virtual trade show? Contact us!